Orthodontics
Invisalign®

Now you can enjoy the smile you have always wanted without the annoyance of metal braces! No huge brackets darkening your smile. No irritated lips or cheeks. No worries about mouth injury while playing sports.
Invisalign® is a remarkable system of virtually invisible aligners that straighten teeth comfortably without metal bands, brackets or wires. The pieces are custom-made to fit your teeth and are easily removable so you can eat, drink, brush, floss, and remove the aligners for special occasions if you need to. Best of all, no one will know you're wearing Invisalign aligners unless you tell them.
Advanced Technology
Invisalign uses advanced 3-D computer imaging technology to project tooth movement in each patient's unique mouth. This allows your dentist to create a series of clear, custom-made aligners, or repositions, which gradually move your teeth in line with one another. You wear each aligner for about two weeks, moving to the next set, and then the next, until you reach the goal you agreed upon with your dentist. With Invisalign, you'll enjoy the confident, beautiful smile you've always hoped for.
Cases Treatable With Invisalign
In addition to straightening crooked or misaligned teeth, Invisalign can eliminate crowding and large spaces between your teeth. Even complex cases such as overbites, underbites and crossbites can be treated.
Benefits of Invisalign Over Regular Braces
Invisalign offers many benefits over traditional metal braces, including:
Cosmetic appeal
Low cost / flexible payment options
Little to no impact on daily life
Less pain
Greater flexibility - aligners can be removed at any time
Easy to keep the teeth clean and healthy
No dietary restrictions
No tightening sessions at the orthodontist's office - simply switch from one set of aligners to the next when the time comes
Candidates for Invisalign
There are many factors to consider when evaluating your candidacy for Invisalign treatment. Some questions you may want to ask yourself are:
Do you work closely with many people, speak in front of groups of people, need to make good impressions on people frequently, or otherwise engage in interactions where you would benefit from these near-invisible braces?
Do you have a flexible enough schedule to make the follow-up appointments you'll need when undergoing Invisalign treatment?
Do you want to close gaps between your teeth or spread out crowded teeth?
Do you want to correct an overbite or underbite?
Are you over 14 years old?
These are only basic guidelines. The best way to find out if Invisalign is right for you to let Dr. Brigati's team know that you are interested and we will set up an Invisalign consult appointment to see if Invisalign is a good fit.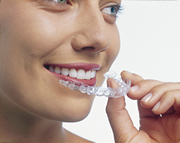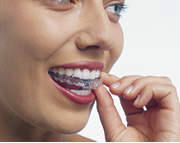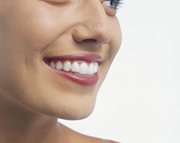 Treatment Process
During your consultation appointment we will be discussing several things with you. We want to know why you are interested in Invisalign and the main reasons for wanting to straighten your teeth. Many patients that are interested in Invisalign had braces in the past and did not wear their retainers, causing their teeth to shift out of alignment. At the consult appointment we will take impression to make models of your teeth and measure the amount of space or crowding that you have. We will take a look at your bite and determine if it is ideal for you. We take photos of your teeth to look at your profile, teeth alignment and your smile. After reviewing your models we will then let you know if you are a good Invisalign candidate.
If you are a good Invisalign candidate, the process will then continue as follows:
Using advanced 3-D computer imaging, your aligners will be made several weeks after your final impressions

.

You will receive your custom-made aligners.
You will wear your clear and removable aligners 24 hours a day. We will only recommend removing them when you brush your teeth and when you eat.
Watch as your teeth gradually transform before your eyes into the straight, confident smile that's been waiting to shine forth all your life!
Typically, Invisalign cases take about a year to a year and a half from start to finish.