Patient Resources
Financial / Insurance
We offer a variety of payment options to meet your needs. Our office accepts payments by cash, checks, Visa, MasterCard, Discover and American Express credit cards.
We offer third-party financing options through CareCredit.

CareCredit offers extended payment plans that can fit your monthly budget. If you have any questions about financing, please call us! We will thoroughly explain your choices and work hard to accommodate your needs.
Dental Insurance
Your insurance policy is a contract between you and your insurance company. Our treatment recommendations are not determined by your insurance coverage. We file your insurance as a courtesy.  However, we do require at least your estimated portion to be paid at the time of service. If after pending insurance pays there is still an outstanding balance, the balance is your responsibility.
Please call our office ahead of your appointment time if you have had any changes in your dental insurance. It can take up to thirty minutes to verify your insurance coverage. We can only file and accept insurance if we have your correct information. Please be aware of limitations that may define non-covered, reasonable and necessary fees, and or waiting periods as defined by your particular policy. LaShann, our insurance expert, works hard each day to try to reduce any surprises that can come up with your insurance policy.
Our practice is committed to providing the best treatment for our patients and our fees are usual and customary. Our fees are based on the education of our staff, the high quality of materials and labs utilized, the state of the art equipment used and procedures performed. Should you accept treatment, you are responsible for payment regardless of any insurance company's arbitrary determination of usual and customary fees or treatment.
Your First Visit
We treat your entire family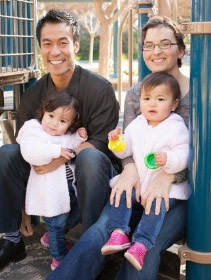 We are currently accepting new patients at Dr. Brigati's office! Most of our new patients are referred by existing patients in our practice. The greatest compliment we can receive is when patients send their family, friends and co-workers to the office. We have patients as young as 6 months old that come in with mom or dad for a lap exam. Your age at the time of the new patient exam will determine if you will see Dr. Brigati for your first visit or one of our dental hygienists. If your child is less than 3 years old, they will see Dr. Brigati for their lap exam and cleaning appointment while mom or dad are encouraged to play an active part in this visit. If you are 18 years or younger, you will have your cleaning the same day as your new patient exam. If you are 19 or older, you will see Dr. Brigati for a comprehensive exam that will last approximately one hour and we will reappoint you for your cleaning on a separate day.
Your first visit if you are 18 years or older
When you first arrive at our office, you will be greeted by either LaShann or Kathleen. We ask that you arrive twenty minutes before your appointed time in order to complete paperwork and to get acquainted with our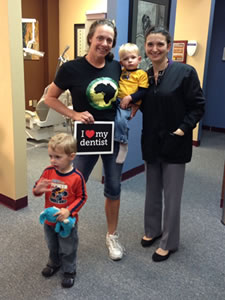 office. We make it one of our top priorities to run on time and this is only possible if both our team and our patients stay on time. We recommend that you download our new patient forms and have them filled out and ready to go when you arrive at our office.
New patients that are older than 18, often ask if they can have their teeth cleaned during their first visit. We take pride in performing a comprehensive dental exam that evaluates for oral abnormalities, periodontal disease, joint degeneration, plaque analysis, bone loss and soft tissue loss, decay, nutrition analysis, internal fractures in your teeth, grinding and clenching habits, home care, and much more. Because we take a detailed look at your dental health our exam lasts a full hour. Your actual treatment usually starts with a dental hygiene appointment and can often be scheduled as soon as the next day or the same day if we have an open hygiene appointment that day.
Dental Radiographs
Depending on your dental history, Dr. Brigati will likely recommend taking a series of digital images or radiographs to get a better look at your entire mouth. If you have recent radiographs from a previous dentist, please feel free to bring them with you to your new patient appointment. If they are current and diagnostic, we will be able to use them instead of taking new radiographs. Radiographs allow us to see things that are normally hidden. This helps Dr. Brigati provide a comprehensive exam.
Our office has new dental radiograph machines and we use digital radiographs to provide our patients with the lowest dosages of radiation that is currently available. Depending on your decay rate, we will set up a custom radiograph schedule for you once you become a new patient in our practice.
Patient Forms
The following forms can be downloaded to your computer and printed at home. By filling out these forms ahead of time you will save significant time at the time of your visit. If you have any questions when filling out these forms, please do the best that you can and our staff will assist you with your questions on the day of your visit.
New Patients
Existing Patients
Questions? please e-mail: [email protected]