Jessica H. Brigati, DDS, PLLC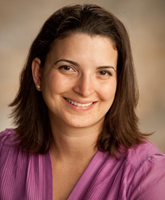 From an early age I wanted to become a dentist. As a young girl my favorite pastime was playing with my Doctor Drill 'n Fill. I would spend hours constructing Play Doh teeth and filling cavities. I feel fortunate to have turned this early passion into my career. It is a great privilege to be able to improve the lives of my patients by helping them attain and keep beautiful, healthy smiles through proper nutrition and dental decay eradication.
Education
I attended Baylor College of Dentistry in Dallas, Texas. During my final year there in 2002, I received the General Dentistry Program award. It is hard to believe that I have been in private practice for fourteen years now. I guess times passes by quickly when you enjoy your profession and coming to work each day. Today I continue to participate in courses on new and advanced treatments, always exceeding the necessary annual requirements for continuing dental education. I regularly participate in local study clubs with fellow dentists to exchange knowledge about complex cases and upcoming technology. Our office has been listed in the Top 10 for General Dentistry in the Fort Worth Magazine for the past twelve years.
I am an avid advocate for my profession. I have held positions on the boards for both the Fort Worth District Dental Society and the Fort Worth Academy of General Dentistry. I was the president of the Fort Worth Academy of General Dentistry from 2010 to 2012. Each year I mentor prospective dental students and feel great pride upon their acceptance into Dental School.
As part of my continuing education, I am active in the following organizations:
Fort Worth District Dental Society
Fort Worth Academy of General Dentistry
Texas Dental Association
American Dental Association
American Academy of Cosmetic Dentistry
Spear Dental Study Club
International Academy of Biological Dentistry & Medicine
International Academy of Oral Medicine and Toxicology
Community Involvement
Annually, my dental team participates in several different local charities. During the holidays, we assist the Fort Worth Salvation Army in sorting toys, clothes, books and canned goods. Through Save a Smile, we provide free dental treatment at our office for four local children each year. We enjoy educating preschool and elementary aged children on the importance of healthy choices that will prevent tooth decay. We try to do as many dental tooth talks that we can each year. We also enjoy spending one day a year assisting in dental health screenings for Save a Smile at a local elementary school in Forth Worth for Save a Smile. We also donate our time to a local free dental clinic called Salt and Light a few times a year. Recently we participated with the Dentistry from the Heart Program with the Academy of General Dentistry to help provide $75,000 of free dentistry for our community.
I am an active participant in our community.  As a sustaining member of the Fort Worth Junior League, I have dedicated over 600 hours to local charities over the past 12 years. Recently I volunteered for Kids Who Care, an organization that provides scholarships for underprivileged children with an interest in theater arts. I am also active in the following community organizations:
Save a Smile
Dentistry from the Heart
Fort Worth Junior League
Salvation Army
Salt and Light Free Dental Clinic
Sustainer in the Forth Worth Junior League
Team In Training with the Leukemia & Lymphoma Society
The Women's Center
Family Life
In 1998, I relocated to Texas to be close to my immediate family. I spend my free time participating in triathlons, masters swimming, painting, photography and smart barre classes. Outside of dentistry and my extracurricular activities, I enjoy spending time with my husband Mike and our three young children.
Recent Awards and Nominations
I was recently honored by the Texas Academy of General Dentistry at their academy of awards ceremony in Austin.  I was one of fourteen dentists in the state of Texas that was nominated for the 2019 Top Dentist Award. It was a wonderful nomination and I am incredibly proud to be part of this great organization.