Office Photo Album
We love spending time inside and outside of the office together! Each quarter we plan happy hours, bowling nights, laser tag events, 5K team runs and painting nights to name a few. We would not be able to provide an exceptional level of service unless we had a cohesive dental team.
2018 Holiday Party
This year Dr. Brigati surprised her team with a shopping  party and Clearfork. Everyone met at Starbucks and then she gave each team member cash to spend at the shops at Clearfork in Fort Worth.  The ladies had to buy everything in just under and hour. Afterwards they  had a delicious lunch at Fixe and took photos with Santa. It was a beautiful day for a party
Fall 2018 Team Cooking Class
This fall we tried something a little different for our quarterly team event. We went to Sur La Table and took a baking class together. We made braided bread and chocolate cinnamon babka. Who knew just how complicated it was to braid six layers together at one time! Happy high holidays to all of our patients.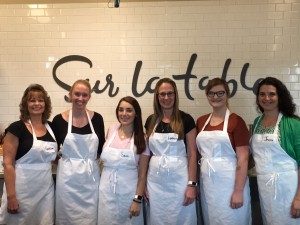 Halloween Office Party 2018
This year we turned out office into a Bee Hive. Dr. Brigati dressed up as a Bee Keeper and the rest of the team were the office Bees. We handed out bee themed candy and fresh flowers to our patients that visited our office that day. We decorated the outside of our suite with a large hive and six bees flying around. Over all it was a fantastic day to celebrate with our patients.  Halloween is by far our favorite holiday!
Fall Pumpkin Contest 2018
Every year for the past sixteen years each team members decorates a pumpkin for the month of October. It becomes a very competitive contest with each team member trying to out decorate each other. This year our patients helped vote for their favorite pumpkin both in the office and our our social media accounts. It was a close race!
Spring 2018 Spa Day
Every year Dr. Brigati takes our team out to the spa. This year we had both manicures and pedicures and loved every minute of it.
Halloween 2017
We love to dress up for Halloween and typically start planning in early July for the big event. Our office building holds a Halloween contest each year for best group costume, best door decorations, and best individual costume. In the sixteen years that we have participated, we almost always win one of the awards. This year we went back to pre-school days and turned our office into Winnie the Pooh.  Dr. Brigati dressed up as Winnie the Pooh and gave honey to each our patients. We collectd lots of local honey to give out to our patients from a local farmers market. We had team members that dress up as Kanga, Owl, Tigger, Piglet and Eeyore. We had such a blast in our patient photo booth and loved handing out our treats to everyone. Lots of our patients came in to see our decorations even when they did not have an appointment that day.
Top Golf 2017
We spent an afternoon this fall at Top Golf in Fort Worth. What a wonderful day. We had amazing drinks, food and played golf for many hours!
Spinning Wheel Contest 2017
We love patient contests! This year we held a spinning wheel contest and gave out lots of office prizes. We handed out Sonicare toothbrushes, bleaching kits, funny teeth and many more. Overall it was a great day and everyone had fun!
Spreading December Cheer 2017
At the end of each year we celebrate as an office with lots of different themed days. This year we had tacky sweater day, pajama day, cheesy sock day and team holiday shirt day! It was a fun way to spent the last two weeks of the year as a team. We handed out Santa Sleighs made our of candy to our patients as gifts.
Specialist and Patient Appreciation Gifts
We always feel loved and appreciated by both our patients and specialists that we use. They are always surprising us with deserts, lunch, and funny gift packages. We even play practical jokes on each other. A few times a month patients drop by goodies to us and it always brightens our day. We have received baked goods, flip flop packages, movie tickets, sports drinks, Sonic happy hour drinks, breakfast tacos, doughnuts and many more. We have the best specialists and patients.