Office Photo Album
We love spending time inside and outside of the office together! Each quarter we plan happy hours, bowling nights, laser tag events, 5K team runs and painting nights to name a few. We would not be able to provide an exceptional level of service unless we had a cohesive dental team.
Halloween 2015
We love to dress up for Halloween and typically start planning in early July for the big event. Our office building holds a Halloween contest each year for best group costume, best door decorations, and best individual costume. In the fourteen years that we have participated, we almost always win one of the awards. This year we turned our office into Snow White and the Seven Dwarfs.  Dr. Brigati dressed up as Snow White and the team dressed up as the Dwarfs. We handed out candied apples and created a wilderness photo booth. Lots of our patients came in to see our decorations even when they did not have an appointment that day.  Overall it was a great day and everyone had a blast.
Spa day 2015
We spent a few hours getting manicures and pedicures at a local nail salon in Fort Worth.  Dr. Brigati always tries to treat the team to spa time each year. We enjoyed our time together and the wine and cheese from Central Market.
Funky Town 5k 2016
As an office, we participated in the Funky Town 5k run through Trinity Park. It was a night run and was almost cancelled due to weather conditions. After our run we grabbed dinner at a local restaurant.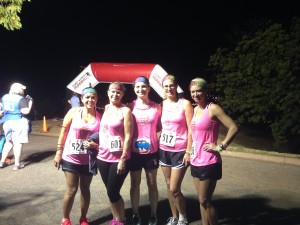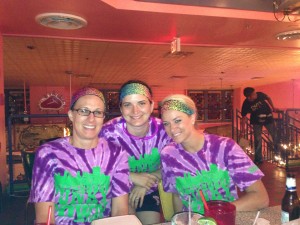 Holiday Handout Days in 2016
Each month we have patient contests & giveaways. We pick six days a year in which we hand out goodies and treats to all of our patients. We switch it up each year so that it is always a surprise. This year we gave out flowers for Mother's Day, treats for Saint Patrick's Day, Texas Rangers opening day goodies and purple treats for our Texas Christian University football spirit Day. Overall it has been a great year of fun surprises!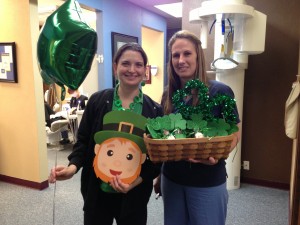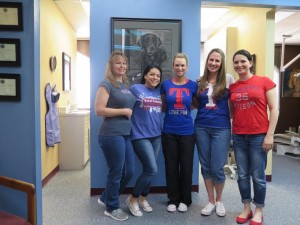 Polar Express Day 2015
At the end of each year we celebrate as an office with a night out on the town. This year, we had two team members that were both due with babies in the month of December and therefore we celebrated in the office. We brought The Polar Express to our office. We all dressed up in pajamas and gave out hot chocolate, cookies and doughnuts to everyone that came in. We even had a puppy visit the office for our Polar Express Day!
Specialist and Patient Appreciation Gifts
We always feel loved and appreciated by both our patients and specialists that we use. They are always surprising us with deserts, lunch, and funny gift packages. We even play practical jokes on each other. A few times a month patients drop by goodies to us and it always brightens our day. We have received baked goods, flip flop packages, movie tickets, sports drinks, Sonic happy hour drinks, breakfast tacos, doughnuts and many more. We have the best specialists and patients.